From the Mountains
To the Murray
Rail Trail
Everton Rail Trail
Below are details of the Victorian Bicycle Rail Trail which runs along the old railway line from Wangaratta to Everton, a Rail Trail of approximately 30 km.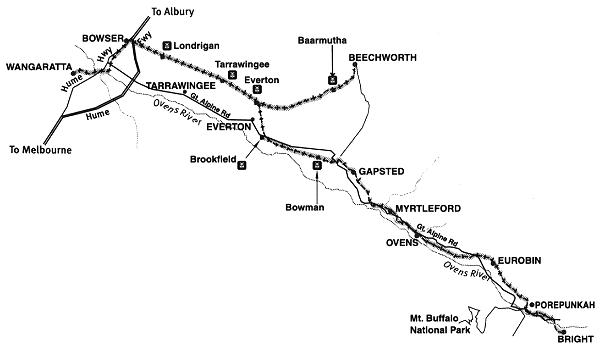 Come and cycle the Mountains to the Murray Rail Trail, from the Snowgums to the Rivergums ( when completed ).
The Everton Rail Trail currently consists of approximately 94 Km of bitumen sealed path that is built over the disused railway line from Bright to Wangaratta.
The Trail from Wangaratta to Wahgunyah ( on the Murray near Corowa ) has not been completed yet.
A Branch line from Everton to Beechworth is also open, a distance of approximately16Km.
The Mountains to Murray Rail Trail follows a gentle gradient that makes it suitable for all ages and levels of fitness. There are three toilet blocks built on the bicycle path, one at Eurobin, one at Everton Station, and the other at Tarrawingee Station. There are however public toilets in all the towns mentioned along the Trail.
The distances between the towns are as follows
* Note Everton is approximately 3 km South of Everton Station.
The Everton Station to Bowser and Wangaratta Section of the Rail Trail
Distance 28 kms.
This section of the Rail Trail has been broken up into three sections.
Please click on the links to see each of the sections.
Everton Station to Tarrawingee Station 10 km
Tarrawingee Station to Bowser 14 km
Rail Trail Town Information
Links to the Mountains to the Murray Bicycle Rail Trail
The Up Button will take you to the Home Page