From the Mountains
To the Murray
Rail Trail
Beechworth to Everton Rail Trail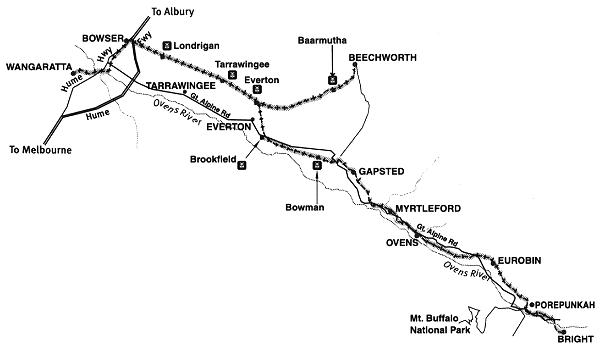 Come and cycle the Mountains to the Murray Rail Trail, from the Snowgums to the Rivergums ( when completed ).
The Beechworth Rail Trail currently consists of approximately 94 Km of bitumen sealed path that is built over the disused railway line from Bright to Wangaratta.
The Trail from Wangaratta to Wahgunyah ( on the Murray near Corowa ) has not been completed yet.
The Beechworth Rail Trail follows a gentle gradient that makes it suitable for all ages and levels of fitness. There are three toilet blocks built on the bicycle path, one at Eurobin, one at Everton Station, and the other at Tarrawingee Station. There are however public toilets in all the towns mentioned along the Trail.
The distances between the towns are as follows
* Note Everton is approximately 3 km South of Everton Station.
The Beechworth to Everton Section of the Mountains to Murray Rail Trail
Distance 16 kms.
THE OLD RAILWAY LINE FROM WANGARATTA TO BRIGHT AND BEECHWORTH HAS BEEN TRANSFORMED INTO A FULLY BITUMINISED BICYCLE TRAIL.
The trail from Beechworth to Everton Station is approximately 16 kilometres. To follow the trail by car you will need to drive along Diffey Road, which commences near Pennyweight Winery or the Beechworth Stagecoach Home Base, and turns into an unsealed road about 4 kilometres towards Everton. Diffey Road finishes at the Everton Township itself, whereas the Rail Trail goes to Everton Station, about 3 Kilometres northwards past Everton.
Years ago the trains from Melbourne and Wangaratta followed one line through Bowser, Londrigan Station, Tarrawingee Station, to Everton Station, where the train could then either go straight ahead to Bright or turn left and head to Beechworth.
Please note that both Everton Station and Tarrawingee Station are at least 3 kilometres from the Townships. Also note that in 1901 two famous Federation Trees were planted at each of these stations. They are both obviously 100 years old in 2001, and are both beautiful ghost gums, with lemon scented leaves.
Currently the trail commences at the Beechworth Croquet Club on Camp Street, opposite the Chinese Gardens. Soon the trail will commence at Lake Sambel and run through the Chinese Gardens to the Croquet Club. Pictured above is the Rail Trail passing the Croquet Club, and running through the Old Beechworth Railway Station, and off through to Mellish Street.
Pictured above is the Rail Trail at Mellish Street running straight into the distant hills towards the bridges at Fighting Gully Road. Above right is one of the Bridges just over Fighting Gully Road, crossing a small stream. Around this area the trees abound with many varieties of bird life.
Links to the Mountains to Murray Bicycle Rail Trail
The Up Button will take you to the Home Page