COROWA WALKING / CYCLE TOUR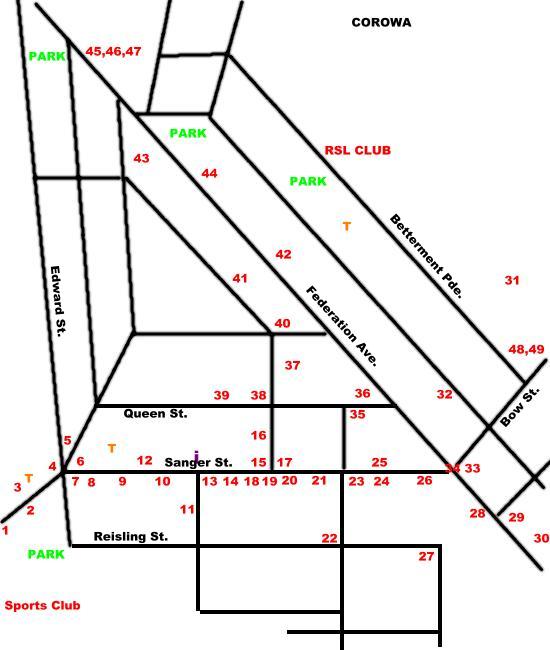 1 John Foord Bridge
The Only Bridge across the Murray named after a person. Built in 1892, it replaced the original wooden Toll Bridge which was first used in 1862.
2 Water Fountain
Donated to the Town by Mayor A A Piggin in 1907 on opening of town water supply.
3 Bank of New South Wales
Originally built as a Hotel, but never licenced. Bank of NSW from 1875 until 1938. ( Privately owned).
4 Two Story Flats
Terminus Hotel built here in 1877. A further story was added later. ( Privately owned).
5 Church of Christ
Cristian Tabernacle. First service 31st December 1892.
6 Globe Hotel
Originally known as the Bridge Inn. On this site since 1860. This Hotel was the venue for the evening Banquet on Monday 31st july, 1893, for delegates and polititians attending the Federation Conference.
7 Solicitors Office
When built in 1884 this was the Bank of Australasia.
8 Corowa Hotel
Built around 1881. Second Corowa Hotel by this name.
9 Solicitors Office
Built in 1886 for P H Carne.
10 Memorial Hall
Facade 1914. Site of original school of arts.
11 CWA Rest Rooms & Hall
Corowa branch of CWA formed in 1928. Through special donations and fund raising the rest rooms/ hall was built in 1929.
12 Royal Hotel
First licensed to William Fox Martin in 1869. Coach exchange for Crawford & Co, a Beechworth Company.
13 Free Press Office
Built in 1911. The first edition of the Free Press appeared on 8th October, 1875.
14 National Bank
Site of Blacksmith and Wheelwright. The building was erected for the Commercial Bank in 1901.
15 Court House Hotel
Built in 1891. Privately owned.
16 Star Hotel
Known as Star Inn until 1881. The feature of the Hotel is underground shops, open to the public.
17 Australia Post
Opened in 1880 as postal and telegraph office. Renovated preserving the original facade.
18 State Bank of NSW
Built in 1936 as the Rural Bank
19 Resource Centre & Library
Built in 1912 for the Commercial Banking Company.
20 Hotel Australia
Opened in 1893 as the Australian Hotel. Was the first commercial business to have water supply laid on.
21 Fire Station
First Volunteer Fire Brigade formed in 1878. Present fire station was not built until 1926.
22 Baby Health Centre
Opened 1938, with support from CWA and other local organisations.
23 Rex Theatre
Opened as movie theatre in 1936 and closed in 1964.
24 Ambulance Station
Opened in 1940 after operating from a private home for some years.
25 Riverina Harvestor Company
1893 to 1924. Manufactured harvestors, ploughs, water carts etc..
26 Newmarket Hotel
Built in 1888.
27 Corowa Flour Mill
Mill in Steel St built after Netherby Flour Mill in Albury Rd burnt down. new mill closed down in 1970 after failure in overseas markets.
28 Soldiers Memorial
Memorial with clock tower unveiled in 1922
29 Corowa Council Chambers
Built in 1967 on site of original Council Chambers built in 1910.
30 Old Corowa Railway Station
The Culcairn to Corowa railway line opened in October 1892.
31 Corowa Public Hospital
Opened in 1893. Part of original hospital now used for administration.
32 Federation Museum
Built as a hall for the Border Brass Band in 1915.
33 Presbyterian Church Hall
Built in 1895, used as a Church until 1934 when St Andrews was built.
34 Uniting Church
Originally Wesleyan ( Methodist) Church built on this site 1884.Present building built 1967.
35 St Mary's Catholic Church
The original church on this site built 1875. Current Church 1921.
36 St Mary's Church Hall
Built 1893 as church school.
37 St John's Hall
Church of England Hall built in 1929.
38 St Mary's Convent
Built in 1929.
39 Corowa Court House
Opened 1888,(middle section), side additions completed in 1890, also Police Barracks. This Court House was the venue for the Official Proceedings of the Federation Conference held Monday 31st July, and Tuesday 1st August 1893.
40 Oddfellows Hall
Built in 1886, front extentions added 1912. Venue of public meetings held at the Federation Conference in 1893.
41 TAFE College
Located in the original Corowa Public School, opened in 1878.
42 John Foord Oval
Named after John Foord, Pioneer of the district. Corowa's first football team played a game in 1877.
43 Racecourse & Showgrounds
Original old Grandstand. First race meeting 1875.
44 Pioneer Cemetery
Oldest headstone 1859, Andrew Hume, nephew of explorer Hamilton Hume.
45 Corowa Aerodrome
Originally used during war years. Now home of National Parachute School, Gliding Championships and light aircraft.
46 Corowa Ponds Bird Sanctuary
Some 100 species of wetland birds, including rare freckled ducks, visit these ponds.
47 Catholic Cemetery
Oldest headstone 1883.
48 Police Station
Located at rear of court house.
The Up Button takes you to the Home Page.