Corowa's Federation Museum
Page 2
Museum Opened Weekends 2.00 Pm to 5.00 Pm or by arrangement.
Phone 0260 331 568 0260 332 189
Chronological Time Line, from 1788 until 1901.
Below is a sample of some of the items on the Chronological Time Line from the Corowa Museum.
1788 26th January 1788 the First Fleet landed at Sydney Cove.
1824 Hume and Hovell opened up the country around Corowa by Exploring the interior and crossing the Murray River at Albury, on their journey to Port Phillip Bay, near Geelong.
1836 Major Mitchell crossed the Murray heading south. His discoveries speeded up settlement in Victoria.
1838 Charles Sturt is recorded as the first white man to have passed through the Corowa District.
1838 Charles Cropper was probably the first white person to take up property, Brocklesby Station.
1839 John Foord took up the Wahgunyah Run.
1840 Interstate tariffs were imposed. This led to much resentment and helped to create the push for federation.
1854 The arrival of the First Riverboat.
1861 Discovery of Gold in the District.
1893 The Federation Conference at Corowa.
1901 January 1st, the new Nation of Australia was formed.
Chronological Federation Time Line
As a major feature the Corowa Museum has dedicated about one third of the Museum to the Chronological Time Line, both for Australia's Historical Time Line, and for Federation Time Line.
This is an excellent location to bring schoolchildren of nearly any age, right up to HSC Level, as the information here is set out in a very logical style, which makes it easy to follow and understand.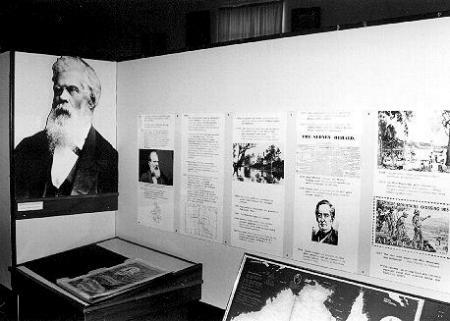 Sir Henry Parks, Governor of New South Wales, referred to as the Father of Federation, is the main photograph dominating this section of the Federation Time Line.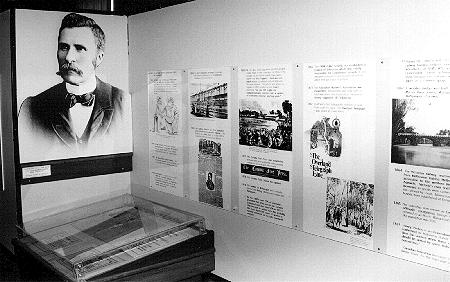 Local Doctor John Quick's photo dominates this next section,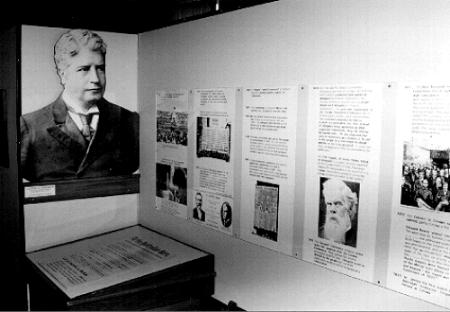 whilst Sir Edward Barton, Australia's First Prime Minister's photo, dominates the third section of the Time Line.
As you can see the walls these three distinguished Australians survey are full of well set out, clear information. An excellent outing for schools, scholars or the inquisitive.
The Corowa Museum is an active museum, becoming involved with many of the towns functions.
Above we see some of the museum staff, scaring the life out of the younger children during the 2002 Australia Day Celebrations. The staff set up a float depicting an old dentists surgery, complete with screaming patient, not too friendly nurse and a dentist who needed to be constantly pressing his foot pedal to generate some speed for his drill.
As nearly every local turned out for the procession, I don't think any body in Corowa will be going to the dentist again for years.
Still, when you are in Corowa, the Museum is a great place to spend a few hours, but it is obviously not for the faint hearted.
The Up Button takes you to the Home Page.