Corowa's Federation Museum
Page 3
Museum Opened Weekends 2.00 Pm to 5.00 Pm or by arrangement.
Phone 0260 331 568 0260 332 189
Painting of the First Parliament, 9th May 1901.
Tom Roberts, Famous Australian Painter from the Heidelberg School.
This famous Australian Painting of the Opening of the First Parliament in the Exhibition Building, Carlton, on the 9th May, 1901, was painted by Tom Roberts, one of Australia's most famous artists from the Heidelberg Group.
The Painting was done by referring to photographs taken at the time, and by individually painting portraits of all the dignitaries. There are 254 dignitaries, and several other notable spectators, all of whom are recognisable in this superb painting. The painting, which is about 8 metres long, took three years to complete, during which time Tom Roberts travelled to England, and on completion presented the painting to the Royal Family. The Queen of England still owns the painting which currently hangs proudly in the Australian Canberra Museum.
The Corowa Museum has a copy of the Painting, plus has the index of all the names of those people in the painting.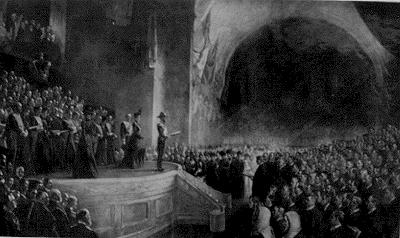 The photo of the painting above shows the enormity of the hours of skill put in to complete this masterpiece, with so many spectators all having their portraits done. The above painting on the screen is very dark, so you will need to drop into either the Corowa Federation Museum or the Chiltern Athenaeum to see the copy in real life.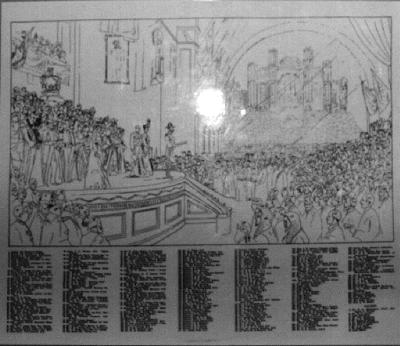 Above is the index to the painting. Every person in the painting is numbered, and below this index you can see the large list of dignitaries. There are 254 dignitaries and a few other special guests.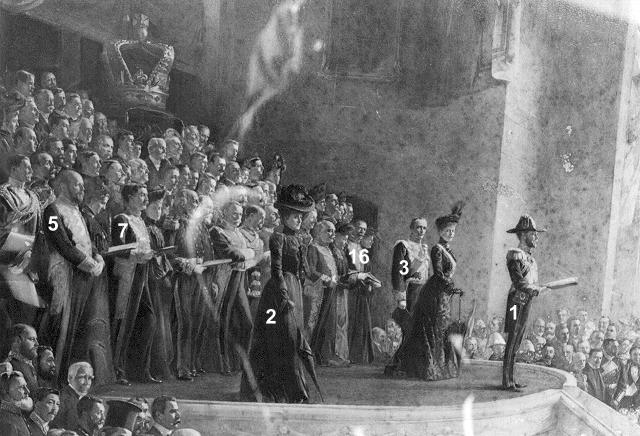 Above you can see a close up of the stage area of the painting. Note how you are able to see everyperson's face and features extremely clearly. This is one of the reasons why this painting is a masterpiece.
You can also see above that I have transposed some numbers onto some people. This is Tom Robert's numbering system that is found below the painting index. The names of these people above are shown in the table below.
| | |
| --- | --- |
| 1 | H R H Prince of Cornwall and Wales |
| 2 | H R H Princess of Wales |
| 3 | Marquis of Liulithges, Governor General |
| 5 | Lord Tenuyson, Governor of South Australia |
| 7 | Lord Lamington, Governor of Queensland |
| 16 | Sir Arthur Lawley, Governor of Western Australia |
The Up Button takes you to the Home Page.