Famous Federation Painting
by Tom Roberts.
On the 9th May, 1901, at the Exhibition Buildings in Carlton, His Royal Highness, the Duke of Cornwall and York, delivered the message of His Majesty King Edward 7th to the members of Australia's First Parliament.
A photograph of the occasion was taken and from this photograph, and many others, a magnificent painting was commissioned. The original now hangs in Canberra.
An Original Photograph of the
First Meeting of the Australian Parliament
This precious photograph is on display at the Chiltern Athenaeum.
The Commissioned Painting
Above is a photograph of the Famous Federation Painting. This photograph is on display at the Chiltern Athenaeum.
A Close Up of the Photo / Painting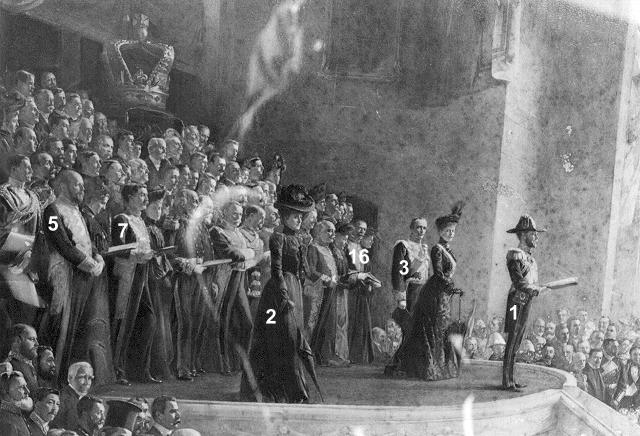 Above you can see a close up of the stage area of the painting. Note how you are able to see everyperson's face and features extremely clearly. This is one of the reasons why this painting is a masterpiece.
You can also see above that I have transposed some numbers onto some people. This is Tom Robert's numbering system that is found below the painting index. The names of these people above are shown in the table below.
| | |
| --- | --- |
| 1 | H R H Prince of Cornwall and Wales |
| 2 | H R H Princess of Wales |
| 3 | Marquis of Liulithges, Governor General |
| 5 | Lord Tenuyson, Governor of South Australia |
| 7 | Lord Lamington, Governor of Queensland |
| 16 | Sir Arthur Lawley, Governor of Western Australia |
To see these two photographs, you would be best to book a time to see the Athenaeum to ensure that the Museum is open. Do this through the Chiltern Tourist Information Centre.
| | |
| --- | --- |
| Chiltern Tourist Information Centre | Ph 0357 261 611 |
The Up Button takes you to the Home Page.