ETTAMOGAH WILDLIFE SANCTUARY
PAGE SIX, FAIRY PENGUINS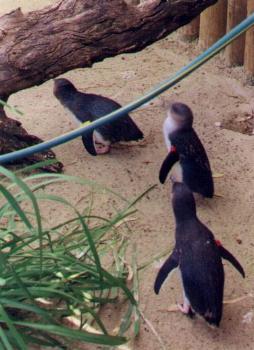 ONE OF THE BIG ATTRACTIONS AT THE SANCTUARY IS THE FAIRY PENGUIN ENCLOSURE.
THE PENGUIN KEEPER GIVES A TALK THREE TIMES EVERY DAY, AT 11am, 1pm AND 3pm.
DUE TO THE POPULARITY OF THE FAIRY PENGUIN, THIS MAKES THE ETTAMOGAH SANCTUARY ONE OF THE BEST TOURIST ATTRACTIONS IN ALBURY WODONGA.
ABOVE ARE THE FAIRY PENGUINS SWIMMING IN THEIR ENCLOSURE. THERE ARE SOME BEAUTIFUL OWLS, SUCH AS THE BARKING OWL ABOVE, AND MANY AUSTRALIAN PARROTS AND BIRDS AT THE SANCTUARY.
ABOVE IS THE TAWNY FROGMOUTH OWL.
THE SANCTUARY IS OPEN EVERY DAY FROM 9.00AM UNTIL 5.00PM
THE PENGUIN TALKS ARE AT 11.00AM, 1.00PM AND 3.00 PM EVERY DAY
SO COME OUT TO ETTAMOGAH
AND SEE THIS MAGNIFICENT ATTRACTION
OPEN EVERY DAY, 9.00AM TILL 5.00PM
Hume Highway, Ettamogah
Phone 0260 403 677
PLEASE DROP IN AND SAY YOU SAW US ON THE INTERNET!
The Up Button takes you back to the Home Page