ETTAMOGAH WILDLIFE SANCTUARY
PAGE FIVE,
TOURISM IN ALBURY WODONGA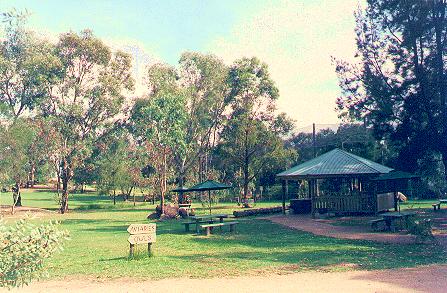 THE IDEAL PLACE FOR TOURISM IN ALBURY WODONGA IS TO VISIT ETTAMOGAH SANCTUARY AS IT IS AN EXCELLENT PLACE FOR YOUR FAMILY PICNIC OR BBQ. THERE ARE ACRES OF PARKLAND TO STROLL AMONGST THE ANIMALS, AND PLENTY OF BBQ FACILITIES, TABLES, SHADE AND SHELTER.
REFRESHMENTS ARE AVAILABLE, BUT PLEASE BRING YOUR OWN BBQ FOOD OR PICNIC LUNCHES.
OPEN FROM 9.00AM UNTILL 5.00PM, EVERY DAY.
THERE ARE QUITE A FEW PEACOCKS STRUTTING FREELY AROUND THE COMPLEX, AND THERE IS A MAGNIFICENT BIRD AVIARY, WITH MANY SPECIES OF AUSTRALIAN BIRDS. THERE IS A LARGE LAKE WHICH IS USED AS A FREE ROMING WETLAND AREA, WHICH IS BOTH A HOME AND A STOPPING OVER PLACE TO MANY MIGRATORY WATER BIRDS.
OF COURSE THERE ARE THE DINGOS IN THEIR ENCLOSURE, AND SOME TINY MARSUPIALS SUCH AS SUGAR GIDERS AND NUMBATS, AND THE WOMBATS AND ECHIDNAS.
FOR THE REPTILE LOVERS THERE IS A PYTHON CALLED MONTY, VARIOUS LIZARDS, INCLUDING SHINGLE BACKS, BLUE TONGUE AND WATER DRAGON, AND TORTOISES IN THE REPTILE ENCLOSURE.
THE LARGER ENCLOSURES CONTAIN THE EVER HUNGRY EMUS AND THE NERVOUS AND PRANCING FALLOW DEER. TOURISM IN ALBURY WODONGA IS WELL CATERED FOR HERE. THIS IS A HIGHLY RECOMMENDED OUTING, WHETHER YOU ARE A RESIDENT OF ALBURY WODONGA, OR A TOURIST TO THE AREA OR TO AUSTRALIA.
THIS SANCTUARY IS ONE OF VERY FEW PLACES IN AUSTRALIA WHERE YOU CAN FEED THE AUSTRALIAN NATIVE ANIMALS.
FOR THIS REASON IT IS THE IDEAL PLACE TO BRING OVERSEAS VISITORS, AND WHY IT IS ONE OF THE BEST ATTRACTIONS FOR TOURISM IN ALBURY WODONGA.
OPEN EVERY DAY, 9.00AM TILL 5.00PM
Hume Highway, Ettamogah
Phone 0260 403 677
PLEASE DROP IN AND SAY YOU SAW US ON THE INTERNET!
The Up Button takes you back to the Home Page