ETTAMOGAH WILDLIFE SANCTUARY
PAGE FOUR, THE CAMOUFLAGE KING
A SPECIAL ATTRACTION FOR
TOURISM IN ALBURY WODONGA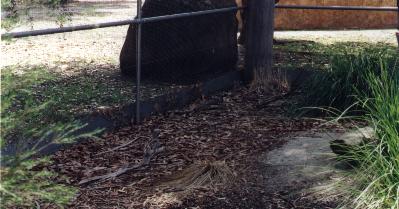 ABOVE IS A PHOTO OF A RARE AND ENDANGERED AUSTRALIAN FAUNA.
IT IS QUITE A LOVELY ANIMAL. CAN YOU SEE IT?
I WILL GIVE YOU SOME HELP. WE MADE THEM MOVE.
LOOK IN THE PHOTO BELOW. THERE ARE 4 OF THEM !!!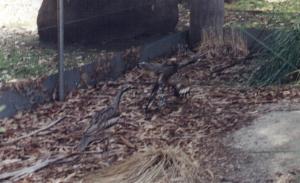 TO MAKE IT VISABLE, WE GOT CLOSER SO THE MALE WOULD PROTECT ITS YOUNG. THE YOUNG CHICK IS AT THE RIGHT OF THE EXTENDED WING, LAYING PRONE BETWEEN THE TWO STICKS.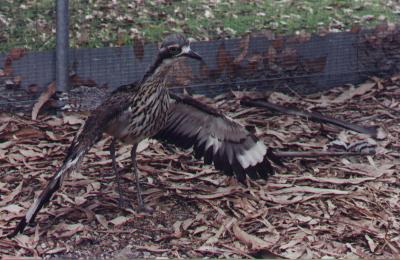 IN THE PHOTO BELOW YOU CAN NOW SEE CLEARLY A BUSH STONE CURLEW. RIGHT IN FRONT OF IT IS ONE OF ITS CHICKS. UNDERNEATH THE HEEL OF THE HUMAN FOOT IS THE OTHER CHICK LAYING PRONE ON THE GROUND.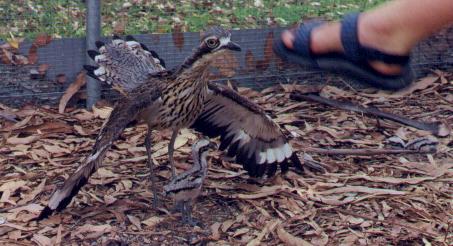 THESE MAGNIFICENT BIRDS, THE BUSH STONE CURLEW, ARE LISTED ON THE RARE AND ENDANGERED SPECIES. THEY LIVE ON A DIET OF INSECTS AND OTHER SMALL INVERTERBRATES. THEY LIVE IN OPEN WOODLAND WITH SCATTERED TREES SET IN SANDSTONE, SHALE ENVIORONMENTS. THEY WERE TO BE FOUND FROM PERTH TO BRIBANE ALONG THE WEST AND NORTHERN AUSTRALIAN COAST AND INLAND FOR UP TO 250 KILOMETRES.
FOR TOURISM, ALBURY WODONGA HAS A FAMILY OF THESE RARE BIRDS FOR YOU TO SEE IN THE MAGNIFICENT BIRD AVIARY WHERE THE ALBURY WODONGA TOURISTS CAN WALK THROUGH THE AVIARY AND SEE THE BIRDS IN NATURAL HABITATS.
IF YOU ARE A TOURIST IN ALBURY WODONGA BE SURE TO COME TO THE ETTAMOGAH SANCTUARY, BUT IF YOU BRING A CAMERA, BE PREPARED TO TAKE SEVERAL PHOTOS, BECAUSE IF THE CURLEWS ARE ON A LEAFY GROUND COVER, NEITHER YOU NOR THE CAMERA WILL SEE THEM.
OPEN EVERY DAY, 9.00AM TILL 5.00PM
Hume Highway, Ettamogah
Phone 0260 403 677
PLEASE DROP IN AND SAY YOU SAW US ON THE INTERNET!
The Up Button takes you back to the Home Page