ETTAMOGAH WILDLIFE SANCTUARY
PAGE TWO, KOALAS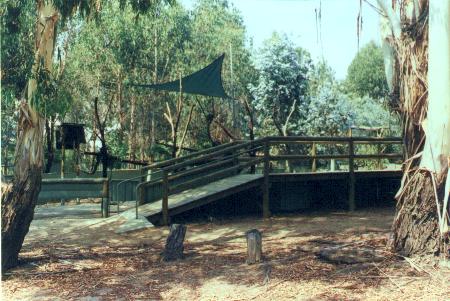 THE ETTAMOGAH WILDLIFE SANCTUARY KOALA ENCLOSURE
THE WOODEN PLATFORMS ALLOW THE SIGHTSEER OR TOURIST TO VIEW THE KOALAS AT EYE LEVEL. THE KOALAS ARE GENERALLY DOZING IN THE FORK OF THE GUM TREES, WITH THREE FEMALES IN ONE ENCLOSURE AND THE MALE IN THE OTHER. A SHADECLOTH ALLOWS THE KOALAS SOME RESPITE FROM THE SUMMER SUN, AND GENTLE WATER SPRAYS ARE USED IN THE HEAT TO COOL THEM.
THE KOALS ABOVE ARE OBVIOUSLY IN THEIR NATURAL POSE, HALF ASLEEP AND FULLY RELAXED IN THE ETTAMOGAH SANCTUARY ENCLOSURE.
TOURISTS TO ALBURY WODONGA CAN SEE THESE KOALAS RIGHT UP CLOSE, AND IT IS VERY EASY TO TAKE A CLOSE UP PHOTO.
OPEN EVERY DAY, 9.00AM TILL 5.00PM
Hume Highway, Ettamogah
Phone 0260 403 677
PLEASE DROP IN AND SAY YOU SAW US ON THE INTERNET!
The Up Button takes you back to the Home Page