RUTHERGLEN TOWN WALKING TOUR
AND TOWN CYCLE TOUR
FEATURING HISTORICAL AND INTERESTING LOCAL SITES
Below is a map which features 43 sites of interest.
Brief history of these sites appears below.
The sites are numbered in the order in which you may walk them.
Sites 35, 36, 37 and 38 are a little further out of town.
Excluding the sites above the Walk Tour from the Post Office to the Information Centre, to the Water Tower and back to the Railway Station will be approximately 4 kilometres and take approximately one hour.
Obviously to reduce the time a bicycle tour is recommended, which will allow you more time to see items 35 to 38.
Bicycles can be hired at the Tourist Information centre.
Touring brochures may be obtained at the Tourist Information Centre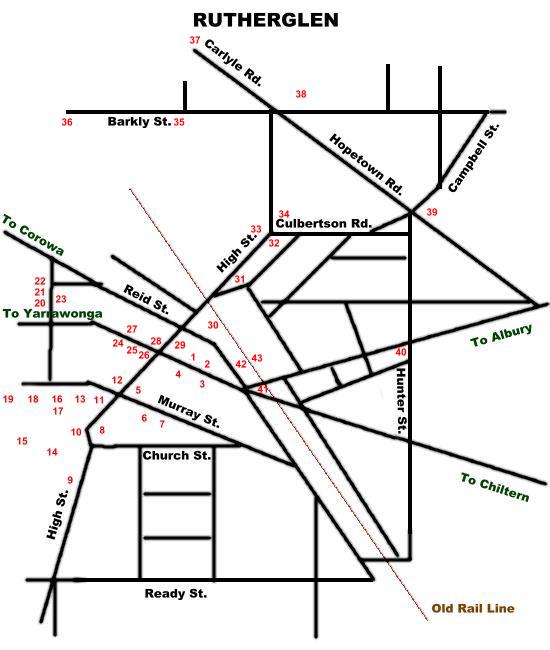 1 Gollings Square.
17th Dec. 1993. This square is named in honour of Shadrack Gollings, owner of the Victoria Hotel 1888- 1937, who provided part of the land comprising the square.
2 Post Office.
Built in 1910, incorporating two rooms of the 1863 Post Office.
3 Bank of Australia
Currently the ANZ Bank. Erected in 1899 and opened in 1900
4 Victoria Hotel ( Mortuary and Stables)
National Trust Classification, opened in 1894, the Hotel had 40 rooms, replacing an original timber 14 room hotel. 350,000 bricks were required.
5 Morton Bay Fig Tree
Planted in 1877, its present height is approximately 23 metres.
6 Common School Museum
Built in 1872, and opened in 1873. A further two rooms were added in 1874. Today used as an Historical Museum and School Room.
7 Primary School
Erected in 1908 and opened in 1909 as primary and secondary school No 522.
8 St Stephens
Opened in 1863, extended in 1923. Wooden spire replaced in stainless steel in 1984.
9 Police Station, Original Lock Up at Rear.
10 Court House
Opened 18th February, 1864. Extentions added in 1905.
11 Civic Centre & Soldiers Memorial Hall
Soldiers Memorial Hall opened in 1927, extentions were added in 1955.
12 Carlyle House
Built in 1897 as a residence and surgery for Doctor,( later Sir) John Harris who also foundered the Rutherglen Viticultural College.
13 Memorial Gardens, Cenotaph and Rotunda
Unveiled in January 1921, in memory of those who paid the great sacrifice.
14 Swimming Pool
15 Lake King
Excavated in 1874 as a water supply for the township. Later it had a jetty and a swimming pool. The local rowing club practised on the lake. Now a scenic walk is situated on the perimeter. There are many species of water birds, and also long neck tortoises abounding here.
16 Rutherglen & Apex Parks
Picnic areas, swimming pool, bowls, golf, arboretum walk.
17 Public Toilets
18 Bowling Club
19 Golf Club
20 Tourist Information Centre
21 Clydesdale Cellars
Built as a winery in 1886, purchased by Oscar Seppelt in 1915. Additions made in 1946 and 1970. The palm trees were planted by Seppelts.
22 Tuileries Restaurant
23 Gold Discovery Cairn
Erected in 1930, a tribute to the party of miners who discovered gold near this point in September 1860.
24 Cumberland Hotel, (Shamrock Restaurant)
Built in 1888, delicensed in 1960.The Shamrock restaurant commenced in 1985.
25 Rutherglen Hotel, (Poachers Arms)
Built in 1860, the front two story section added in 1924. Beehive well at rear.
26 Bank of Victoria
Built in 1896. In the footpath is the point from where surveys are taken.
27 The Rutherglen Sun Office
Erected in 1888 by saddler William Beecroft. The Rutherglen Sun Newspaper moved into the building in 1912, and remained there until it ceased publication in 1979.
28 Star Hotel
Present building erected in 1902, replacing the original hotel dating back to the 1860's.
29 Former State Bank
Now a private home. Built in 1891, the State Bank occupied the builing from 1904 to 1970.
30 Wallace Cairn
John A Wallace was "father" of the Chiltern Rutherglen Goldfield, having interests in over 40 miles of leads in alluvial and quartz mining. Rutherglen was named after his birthplace in Scotland.
31 Congregational Church
Built in 1877, the Manse built in 1881. Now Scout & Guide Hall from 1980.
32 St Mary's Church
Relaces the original Church established in 1877 and burnt down in 1961.
33 St Mary's School
Formerly the St Mary's hall erected in 1900. The new school is an excellent example of modern architectural sensitivity to the existing historical building.
34 Mt Carmel Convent
Originally buit in timber in 1901, the current brick building was erected in 1927.
35 Vidals Cellars, (Ruins)
Vidal's Cellar and Brandy Distillery was erected in 1897 as a distillery. It distilled 78,000 gallons of wine into brandy. The company ceased in 1925.
36 Chambers Rosewood Cellars
Established in 1860. A wine cask used in 1888 Melbourne Exhibition is on display together with old wine making equipment.
37 Rose of Sharon Gold Mine
A Gold Mine Museum which incorporates a tour underground of a gold mine. Also a deep shaft mine can be seen. Many displays of working mining tools and proceedures.
38 Gold Battery
Erected in 1908, first driven by steam. Still in working order using electricity. The battery was used to batter or crush the quartz to claim the gold within.
39 Water Tower
Was completed in 1900 to serve as the town's water supply. A new reservoir was constructed in 1945. The mesh wine bottle top was erected in December 1969.
40 Brown Cairn
Lindsay Brown together with Thomas Clarke, took up the Gooramadda Run in 1839. He planted the first vinyard in the district.
41 Corner Store, ( Teatime Antiques)
Aitken & Commins moved into the former Scott's Store in 1892. Additions were made in 1896 and 1987.
42 Railway
The Springhurst to Wagunyah Railway opened January 1897.
43 Wheat Silos
Erected 1941.