RUTHERGLEN WINERIES DRIVE TOUR
Below is a map showing a suggested Rutherglen Wineries Drive Tour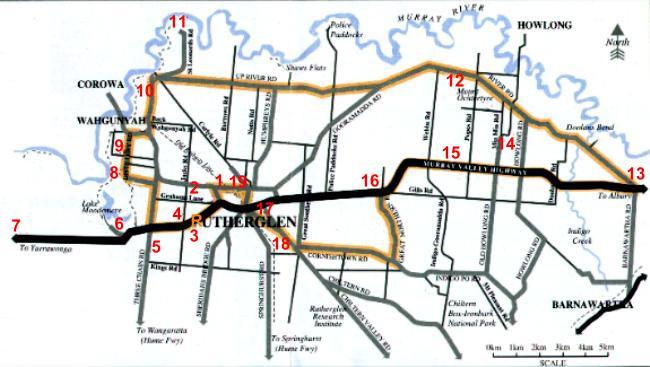 The 17 Wineries and 2 ruins featured on this recommended Rutherglen Wineries Drive Tour are listed below. We hope you enjoy your winery tour.
WINERIES
1 CHAMBERS ROSEWOOD WINERY
Established in 1860. A wine cask used in the 1888 Melbourne Exhibition is a feature, together with old wine making equipment. Five generations of winemakers have provided a magnificent range of sherries, muskats, tokays and ports.
2 NETHERBY CELLARS, ( RUINS )
Settled by John Graham in 1859, where he planted a small vineyard, increasing to 550 acres. Cellars able to hold 200,000 gallons of wine. Home of the first steam plough imported into Victoria in 1861.
3 CAMPBELLS WINERY
A visit to the fourth generation wine making family estate is a total wine experience. Visitors can see the original cellars established in 1870 housing rows of oak casks filled with wine.
4 STANTON & KILLEEN WINERY
This sixth generation wine making family specialises in full bodied reds and fortified wines.
5 BULLERS CALLIOPE VINEYARD & BIRDPARK
Established 1921 by Reginald Buller. The Calliope in the logo symbalises survival in spite of being seemingly small. The Birdpark has 96 averies and 138 different varieties of birds.
6 LAKE MOODEMERE VINYARDS
The newest of Rutherglen's wineries, set on the banks of the beautiful Lake Moodemere.
7 WARRABILLA WINES
Highly regarded for red and fortified wines.
8 PFEIFFER WINES
Set on Historic Sunday Creek Bridge.
9 COFIELD WINES
A small family winery established in 1990. Specialises in white and red table wines. There is a display of beautifully restored old oil engines.
10 ALL SAINTS ESTATE
Founded in 1864 with the present winery built in 1880. Classified B National Trust. One of the largest privately owned oak storage in the Southern Hemisphere.
11 ST LEONARDS ( NOW PART OF ALL SAINTS ESTATE )
First planted by James Scott in 1860. Named after St Leonards in Scotland. In 1973 100 acres were replanted.
12 MT PRIOR VINEYARD
A range of premium dry white and red table wines.
13 GEHRIG ESTATE WINERY
Established 1858. Original homestead featuring 2 story, Bell Tower, built from bricks fired on the property 1870. There is a display of historical wine making equipment and horse drawn ploughs.
14 MORRIS WINES
Glassed walled, air conditioned tasting pavillion within century old cellars. Was established by Charles Morris in 1887, planting 90 acres. Mia Mia being Aboriginal name for humpy or bark hut.
15 FAIRFIELD VINEYARD
Fairfield House and Cellars, is an Historic Building No 700. Foundered by G F Morris in 1859, growing to 700 acres. Cellar storage capacity of 100,000 gallons.In 1972 a small vineyard was planted. In 1975 work commenced on restoration of 21 roomed Victorian Mansion.
16 SUTHERLAND SMITH WINES
First opened in the 1880's, and reopened in 1993.
17 JONES WINERY
The smallest winery in Rutherglen using traditional techniques.
18 ANDERSON WINERY
A tiny family winery specialising in premium methode champenoise and still table wines.
19 VIDAL'S CELLARS AND BRANDY DISTILLERY ( RUINS )
Erected in 1897 as a distillary. It distilled 78,000 gallons of wine into brandy. The company ceased in 1925.
More information and brochures for this winery drive tour can be obtained at the local Tourist Information Centres.
FOR MORE INFORMATION ON RUTHERGLEN WINERIES
PLEASE CALL RUTHERGLEN TOURIST INFORMATION
0260 329 166