RECOMMENDED DRIVE TOUR OF RUTHERGLEN
This tour commences at the Bottle Shaped Water Tower at Hopetown Road, and finishes at No.35, the Racecourse, having covered approximately 60 kilometres. To see the further sites at Nos 36 and 37 will take approximately another 10 kilometre round trip.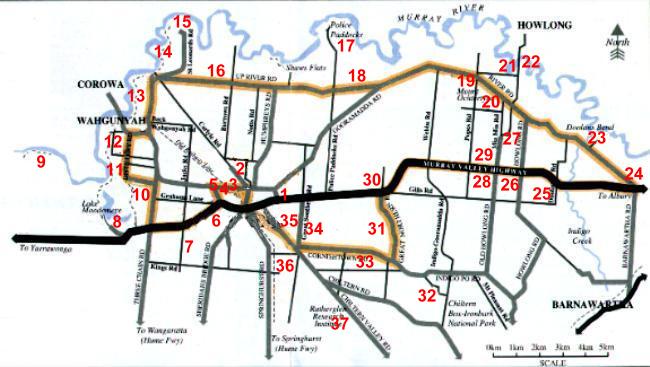 THIS TOUR COMMENCES AT THE WATER TOWER ON THE CORNER OF HOPETOWN RD AND CAMPBELL ST, AND FINISHES JUST SOUTH OF THE TOWN, APPROXIMATELY 60KM.
THERE ARE SOME WONDERFUL RIVERSIDE PICNIC AREAS YOU WILL VISIT PLUS SOME HISTORIC MANSIONS AND SOME CURRENT WINERIES.
FOR MORE DETAILS OR A BROCHURE PLEASE SEE THE TOURIST INFORMATION CENTRE.
1 WATER TOWER
This was completed in 1900 to serve as the town's water supply. A new reservoir was constructed in 1945. The mesh wine bottle top was erected in December 1969.
2 ROSE OF SHARON
The Rose of Sharon Goldmine and Museum has an actual underground goldmine that you may tour, and an excellent display of mining equipment and museum pieces to see. There is also a Restaurant and childrens playground, with a few animals, enough to keep everybody amused for hours.
3 VIDALS CELLARS AND BRANDY DISTILLERY ( RUINS )
Vidal's Cellars and Brandy Distillery was erected in 1897as a distillery. It distilled 78,000 gallons of wine into brandy. The company ceased in 1925.
4 CHAMBERS ROSEWOOD WINERY
Established in 186. A wine cask used in the 1888 Melbourne Exhibition is featured together with old wine making equipment.
5 NETHERBY CELLARS ( RUINS )
Netherby Cellars was settled by John Grantham in 1859. The cellars were able to hold 200,000 gallons of wine. Home of the first steam plough imported into Victoria in 1861.
6 CAMPBELLS WINERY
Visitors can see the original cellars established in 1870 housing rows of oak casks filled with the wine of four generations of Campbells. Historic wine making equipment on display.
7 BULLERS BIRD PARK AND WINERY
The bird park has 98 averies and 138 different varieties of birds enclosed in a garden setting with picnic facilities.
8 LAKE MOODEMERE
Here there are canoe trees where you can see that Aborigines removed bark to make canoes. This billabong was known as Bulgeaba. This is the site of the oldest Rowing Club in Victoria. In January each year Rutherglen hosts the Rowing Regatta, Australia's oldest continuous rowing regatta, held here on the lake.
9 STANTONS BEND
This is a magnificent part of the Murray River, which has been set aside for camping, picnicing and swimming. Follow the dirt road past lake Moodemere to its end. Well worth a look.
10 CARLYLE CEMETERY
Commennced in 1865. A feature are the Chinese Burning Towers from the Gold Rush era.
11 PFIEFFERS WINERY
Built as a distillary in 1895, purchased by Masterton and Dobbin, then Sepplets and operated as a distillery until 1979. Purchased by Pfieffers in 1984.
12 COFIELDS WINERY
A small family winery established in 1990. This winery has a great display of beautifully restored old oil engines.
13 ALL SAINTS ESTATE
Founded in 1864, the present winery was built in 1880. Classified B National Trust. Magnificently restored castle amidst landscaped gardens.
14 GRANTHAMS BEND
This is a magnificent part of the Murray River, which has been set aside for camping, picnicing and swimming. Turn left after passing All Saints on your left, and you will come to a walk, car track along the Murray. A walk will take you to St Leonards Winery.
15 ST LEONARDS WINERY
First planted by James Scott in 1860. Named after St Leonards in Scotland. Now part of All Saints Estate.
16 CARLYLE COMMUNITY HALL
The building was once the Carlyle School No 4256.
17 POLICE PADDOCKS
This is an island of 1,000 acres. In the 1880's the area was used to rest the Police Horses. On the Victorian side of the Murray, a reserve has been created for picnicing, swimming and camping. Again this reserve is well worth a drive to see.
18 SOUTHERN & PRENTICE MINE
This gold mine commenced in 1985. Shaft is 420 feet.
19 MT PRIOR HOMESTEAD
Property established in 1859. The hoestead was built in 1882., and restored in 1979. The original cellar was destroyed by fire in 1912.
20 MT OCHERTYRE
This hill was named by Major Mitchell on his return to Sydney in 1836. The height is 225 metres. Major Mitchell climbed the hill to see if he could spot the best place to cross the Murray River. He subsequently crossed the Murray about one kilometre to the right of Mt Ochetyre. To see this spot go to item 21.
21 MAJOR MITCHELL & JOHN BOURKE CAIRN
A cairn marks the place where Major Mithcell and John Conway Bourke camped by the Murray on 17th October 1836, and subsequently crossed. Travelling to Howlong on the Howlong road, follow the Mitchell Trail sign, turning left into Weidner's Lane. The Cairn is abour 200 metres down the lane.
22 OLD CUSTOMS HOUSE AND PUNT HOTEL
Now a private residence. The old Punt hotel was destroyed by fire in 1896. The old Customs House still remains.
23 DOOLANS BEND
This is a magnificent part of the Murray River, which has been set aside for camping, picnicing and swimming. Within the reserve, there is a small substream part of the Murray which leaves the Murray and rejoins it a few hundred metres downstream. Ideal for kids to play in.
24 GERHIGS WINERY AND HOMESTEAD
Established in 1858. The original homestead featuring two stories and a bell tower, was built from bricks fired on the property in 1870. There is a display of historical wine making equipment, and horse drawn ploughs.
25 FARMERS ARMS HOTEL & POST OFFICE
Operated as a hotel fromm 1886 to 1913 when the license was not renewed. It operated as a post office from 1918 until 1970. The telephone was connected in 1924.
26 BROWNS PLAIN SCHOOL SITE & CHURCH
The school site is marked by a cairn.The school operated from 1896 till 1946, and the building was relocated to Howlong as the Anglican Church Hall. The Browns Plain Church was opened in 1866 as a common school. In 1873 it became a state school. It closed in 1895 as a school.
27 MORRIS WINERY
Established by Charles Morris in 1887, planting 90 acres. The winery features a glassed walled, air conditioned tasting room built within century old cellars.
28 OLIVE HILLS HOMESTEAD
Built in 1886 by Hugh Fraser. at its peak the property wes 2,350 acres. Historic Building No 698.
29 FAIRFIELD HOUSE
Historic Building No 700. Founded by G F Morris in 1859, growing to 700 acres. Cellar storage capacity 100,000 gallons. In 1972 a small vineyard was planted. In 1975 work commenced on restoration of 21 roomed Victorian Mansion.
30 SOUTHERLAND SMITH WINERY
First opened in the 1880's and reopened in 1993.
31 GREAT NORTHERN EXTENDED GOLD MINE
Commenced in 1893. Closed 1910. Yeild 8,980 ounces of gold. The eight horses used for underground haulage were sold in 1910.
32 CORNISHTOWN SCHOOL AND HALL
Built as the Cornishtown School in 1872, extended in 1881, closed in 1957, and in 1959 became the Cornishtown Hall.
33 MT OPHIR ESTATE
Historic site No 334. The cellars were built in 1891. Closed in 1956.
34 GREAT SOUTHERN GOLD MINE
Commenced 1892, closed 1914. Shaft 440 feet. Water was pumped for 8 years before work commenced. Cyanide gold extraction was used on tailings from 1937.
35 RUTHERGLEN RACECOURSE
Reserved as a racecourse in 1963. Area 120 acres.
36 RANGER MINE
Re treatment plant for gold tailings. Commenced operations in 1987.
37 VITICULTURAL COLLEGE
Institute for Integrated Agricultural Development. This was the first Viticultural College in Australia, and was opened in 1897. In 1912 it also became the Research Station.