«
»
TOURISM
INTERNET
Yackandandah Museum
Yackandandah Museum at the Bank of Victoria Building
The stone bank building began in 1860. More interesting though is the cottage at the back. This was built as an original street building in the 1850's. It was used as a butchers shop. Note the bank is now built on the main street, so in the 1850's the main street must have been either one house block to the north, or it was not planned, and simply wandered aimlessly up the hill.
However the cottage was set up as a shop, and you can see the old steps which would have led down to the street. You can see on the photo below on the front verandah a trap door open, which leads down to a dug out clay cellar. Note how worn the front steps are.
The bedroom pictured has printed paper walls, with a printed paper ceiling. The furniture and photo's in the room are of course of the same period, 1850's.
The kitchen shows clearly the strange ceiling designs of the times, again made with patterned wall paper. Down the far end is a wood combustion oven and chimney.
The original roof has been preserved beneath another roof, and you can see the wooden shingles which made up the original. A wide variety of tools are on display in this back area.
The front building, the Bank, has been preserved and you may see the various banking tools and furniture, and you can easily imagine you have gone back in time and are actually at the Bank.
The museum is open public holidays, school holidays and weekends.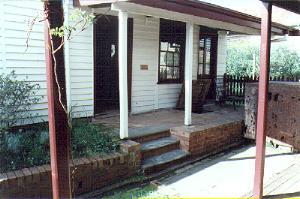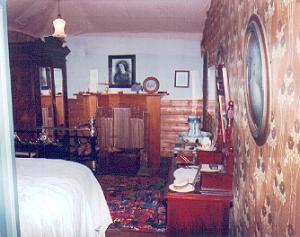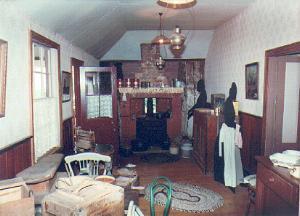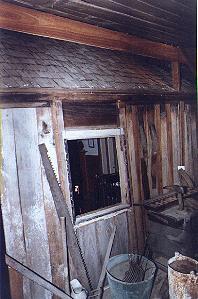 Take a trip back to the turn of the century. See and hear an old hand operated telephone exchange, restored wall phones, gramaphones, telephones, radio and cylinder machines. Closed Tuesday and Wednesday.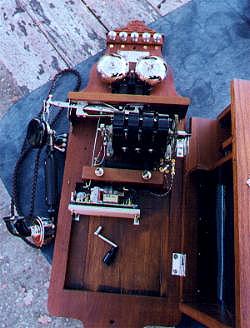 From 1/Jan/2012, this site is being hosted by Albury Local Internet as a community service.
Albury Local Internet accepts no responsibility for and makes no claims as to the accuracy of any content.
For any correction, change or update, please email tim@albury.net.au or call 02-6040-3000.