Wagga Botanical Gardens Model Trains
The Model Trains run on the 1st and 3rd Sunday of each month.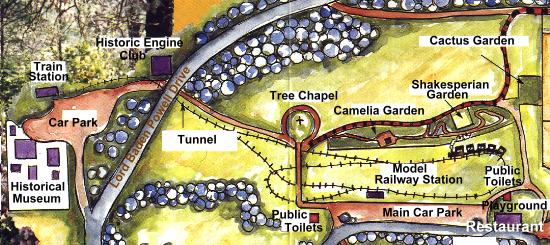 Above you can see part of a map of the Botanical Gardens, showing the Restaurant and Children's Playground in the bottom right.
The Model Train Station is at the top of the Main Car Park, and the extensive railway tracks run approximately 2 kilometres to the second Train Station on the left of the map, and back to the Children's Playground.
The Wagga Wagga Model Engineers Society has created a miniature world of rail, which delights the many thousands of visitors who take a ride each year.
Trains run on the 1st and 3rd Sunday of each month.
Above is a photo taken from the pedestrian bridge over the railway lines looking back at a train leaving the station.
The photo above shows a train pulling into the station, ( behind the hedge ). The photo is taken from the Camellia Garden.
Above is one of the many trains heading from the station and about to go under the pedestrian bridge.
Above is a train full of excited children crossing over a gully on a metal structured bridge, heading towards the train / pedestrian tunnel under Lord Baden Powell Drive.
The Up Button takes you to the Home Page