The Chiltern Take A Walk has been constructed in the Chiltern Box Ironbark National Park right next to the busy Hume Highway, so that motorists travelling from Sydney or Albury/ Wodonga south to Melbourne can take a break and stroll through the forest and historic Gold Mining area for 15 to 20 minutes.
The walk is situated behind the truck and car rest area and toilets in the Off Highway Rest Area approximately 2Km after the Barnawartha Exit.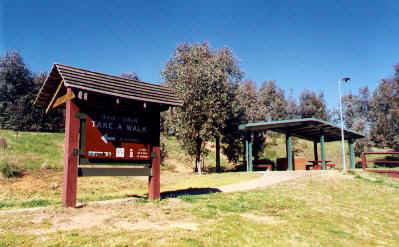 Right next to the car and bus rest area and parking bays is a wooden bridge leading to a sheltered electric BBQ area and picnic tables. Photo above. A concrete path leads off past a notice board which gives details of the walk. The walk will take from 10 minutes to 30 minutes, depending on how often you stop.
The walk is less than 1 kilometre.
The walk is clearly marked and along the walk are information boards explaining the view that you are seeing, as per the photo below.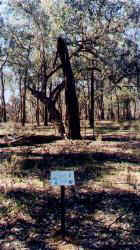 The walk was an active gold mining area, and so there are many shafts, as per the photos below.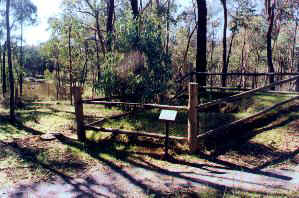 A gold mine fenced off with the lake in the background.
The shafts are very steep, and cut neatly by the Cornish tin miners, to a depth of up to 90 metres. The open shafts have a safety fence around them. The third picture above right shows how the shafts run down to a tunnel below.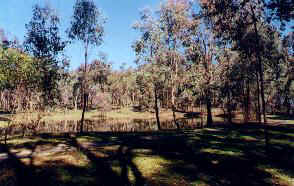 The walk will introduce you to the different species of trees, the Ironbark, the White Box, the Stringybark and others, and it is possible to see small animals such as squirrel gliders and sugar gliders, along with some wallabies, and a variety of birds and owls.
| | |
| --- | --- |
| Chiltern Tourist Information Centre | Ph 0357 261 611 |
Chiltern's Parks, Walks and Drives
The Up Button takes you to the Home Page