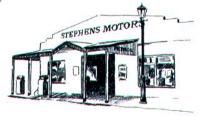 Located in the main street of Chiltern, tucked in behind the only garage or petrol station in the town, is a unique and extensive museum of petrol bowsers or pumps, and of vintage motor bikes, cars and petrol driven engines.
Before 1910 Petrol was sold in 2 gallon tins packed in wooden boxes.
| | | |
| --- | --- | --- |
| Before 1910 petrol was sold in 2 gallon tins packed in wooden boxes. | | These tins and boxes are on display at the gadget shed at the Star Hotel Museum and of course here in the Motor Museum. A little gadget was used to pierce the tin, creating a hole into which could be pushed a simple tube or pouring pipe. |
A company by the name of Bowser manufactured the first petrol pumps around 1910. The pumps were sold in such quantities that the expression for a petrol pump, or the nick name, became known as a Bowser, and it is still so today.
| | | |
| --- | --- | --- |
| The plate on the petrol pump states, " Bowser, Red Sentry, manufactured by S F Bowser & Co Inc, Fort Wayne, IND. October 1911." | The original Bowser 1910. | The original Bowser 1910. |
| | |
| --- | --- |
| The yellow pump is a 1926 Bowser, note the price of the petrol is two shillings and nine pence. Next to this is a blue machine called Purr Pull. | A huge range of over 80 restored and working petrol pumps is on display. The red Plume pump was also manufactured around 1910, but the originals did not have a glass cylinder. In 1918 the glass top was added and called a visable pump. |
During the Second World War there was a shortage of petrol. Australian inventors came up with a conversion kit to run your car or truck on Charcoal.
The Charcoal Burner above was attached to the back of the car or truck. You can see that it is a very heavy conversion kit. The charcoal was placed in the furnace (picture above left), set on fire, the lid firmly bolted shut, and the gasses created were forced down the pipe at the bottom of the furnace and into the pipes (picture above left) which run accross the back of the device and into the final filter.
The final filter can be seen on the left of the picture above right, and the fumes or gasses travelled from the filter top through another pipe to the valve which attaches to or replaces the carburetta which allowed the driver to start the car in petrol mode, and switch over from petrol to charcoal to drive.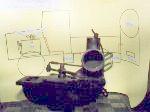 The charcoal converting valve.( Stored in the Athenaeum)
Vintage Cars, Bikes and Petrol Driven Machinery
| | | |
| --- | --- | --- |
| A Malvern Star Moped or motorised bicycle. Behind is a 1913 Metz motor car. | A 1928 Chevrolet with drivers leather jacket hanging on the door. | A photo of the inside the 1913 Metz car showing the simplicity of the pedals and instruments. |
Motor on in and have a look.
| | |
| --- | --- |
| Chiltern Tourist Information Centre | Ph 0357 261 611 |
The Up Button takes you to the Home Page