Beechworth's Heaven and Hell Tunnels
This page can be a continuation of the Lake Sambell to Lake Kerford Walk, or it can be a simple excursion to see the Heaven and Hell Tunnels.
The Starting Point is after arriving at the Silver Creek Caravan Park, in the paddock nearest Beechworth, you will see a small creek running into some large ponds. This is Spring Creek. At the back of the paddock you will see two wooden bridges. One crosses Spring Creek, whilst upstream, the other crosses Silver Creek. The junction of the two streams is in between the two bridges.
Cross the upstream bridge, and follow the trail through the "tween streams" and then up some steps and off into the forest.
After walking along the track for some 400 metres you will come across two mine shafts Heaven and Hell.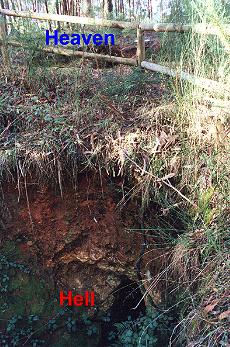 Above you can see the photo's of the two tunnels running parellel underground, one on top of the other. Heaven is above Hell, which seems to fit the theory, but contrary to all beliefs, Hell is not full of fire, but is full of water.
These two tunnels were used in the sluice mining of the other side of this hill. Water from the Silver Creek was pumped through both these tunnels filling up the large storage "bin" made on the other side. This water was fed through smaller sized pipes creating pressure, and then the miners used the "fire hose" to wash the topsoil off the surface of the hills.
You may walk through Heaven, the two entrances are the smallest parts. Most of the way it is about 6 feet or 1.8 metres high, and is about two and a half feet wide, or about .75 metre. You will need a good torch as the tunnel is about 300 metres long and is very dark. There is a small climb over a sandy dirt pile at the other end to get out.
Above is the entrance to Heaven, and the photo above right shows looking back along the tunnel towards the entrance from about 50 metres.
Above is another photo from inside the tunnel, whilst the photo on the right is the entrance on the other side, and the water pit or catchment area built by the miners.
For those people who came to simply see Heaven and Hell, you may now backtrack to the Silver Creek Caravan Park.
For those people who are on the walk to Lake Kerferd, keep following the track past Heaven and Hell.
The track widens and becomes a 4 wheel drive track, which is ideal for cyclists. Remember Lake Kerford is Beechworths drinking water supply, and so there is very limited access to the actual water.
| | |
| --- | --- |
| Lake Sambell from the Camp Street end. | Lake Kerferd before the wall restructure |
For more Information on Beechworth Tourist Attractions, please call the Information Centre on 0357 283 233
The Up Button takes you to the Home Page