In addition to Linger A While Bed and Breakfast
situated at
42 CUSACK STREET
WANGARATTA, VICTORIA, 3677
PHONE 03 5721 5808 MOBILE 0413 806 379
Camellia Place, your home away from home in Wangaratta.
You can see above that Camellia Place is a comfortable 3 bedroom home. Camellia Place has a split system air conditioner, and gas heating.
It is ideal for up to six people and will sleep 8. There is a queen bed in both the main bedroom and the second bedroom, and a double bed in the third bedroom. There is a separate single bed available, and also a roll out divan.
There is plenty of off street parking and a wide drive. The front verandah is an ideal place for an early morning breakfast, having views across the lawns to the bicycle path which meanders along the creek.
Camellia Place is ideal for holidays, family occasions, short term professional accommodation, or relocation accommodation while awaiting permanent placements.
It is less than 5 minutes to the central business district, with its huge array of variety shops and restaurants.
It is close to both the hospitals.
It is easy walking distance to K Mart and the take away restaurants.
It is also easy walking distance from the Railway Station.
Above is the large kitchen and dining room area.
The Master Bedroom with a queen sized bed.
The spacious lounge equipped with T.V., Stero, and DVD Player.
The spacious second bedroom with queen sized bed.
A third bedroom is also available for larger groups or families.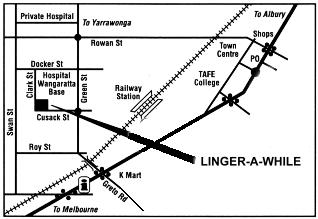 Camellia Place is easy to find. If you are driving to Wangaratta from Melbourne along the Hume Highway, after passing Glenrowan you will see McDonalds on each side of the highway. Approximately 2 Kms further is an exit to Wangaratta.
If you take this exit follow the main street into and through Wangaratta until you pass through the first major intersection operated by traffic lights. Turn left at the next set of lights, which is Greta Road which takes you over the overpass over the train line. Follow the road by veering half right into Green Street, and turn left at the roundabout at the next intersection, which is Cusack Street.
Linger A While Cottage
42 Cusack Street
Wangaratta, Victoria, 3677
PHONE 03 5721 5808
MOBILE 0413 806 379
For E-mail bookings or enquiries please fill in the forms below.
The Up button takes you to the Home Page