Page 2
Steam Train Rides, Second Sunday of each month and most Public Holidays
Phone 0427 509 988
Visit a delightful Colonial Railway Museum in the old railway station at Alexandra, set in lovely parklands with excellent picnic and barbeque facilities.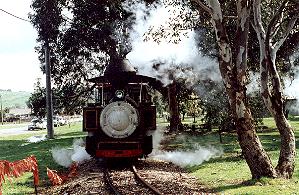 The Alexandra Timber Tramway uses the historic Alexandra Railway Station as its base. Completed in 1912, the station was carefully restored in 1998. Housed in the building are various displays relating to the history of the Alexandra region in general, and the Rubicon Forest in particular.
Of particular note is the collection of scale models of a working saw mill and the various mill buildings. Ernie La Brun, who worked in the Rubicon Forest from 1927 until his retirement, built these models. The models are a valuable and authentic record of life in the forest and are complimented by a large display of photographs and maps.
There is still much to see in the Rubicon Forest, with several of the former sawmill sites now added to the Register of National Estate. The Alexandra Timber Tramway is an essential starting point for bushwalkers and others interested in the history of the forest and considering exploring some of the sites.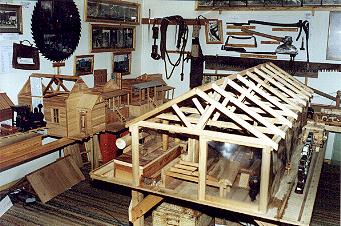 Above is a photo of the Model Room showing the wooden models of the timber mills and displaying a large range of photographs.
Also at the museum is a pioneer kitchen, above right, where you can see the items used in the kitchens of yesteryear. Our staff will happily explain the many utensils, tools, radios, homewares and other items now either forgotten or replaced by modern appliances.
Our general displays, above left, help to interpret the gold mining and pastoral history of the Alexandra region. See original tools used by working miners, the scales that once weighed the gold, and a safe thought to be a potential target of the Kelly gang.
There is a large display of farming equipment and a collection of engines used on local farms. On our special advertised days, including Easter, our staff fire up our collection of working steam portable engines and a Buffalo Pitts traction engine built in 1906.
Above left is the 1906 Buffalo Pitts traction engine, and to the right another of the tramways engines.
The Alexandra Timber Tramway is a not for profit organisation run entirely by volunteers. Every cent we earn is ploughed back into improving facilities, laying new track, maintaining exhibits, and an extensive restoration program.
Help is always wanted and there is a wide range of tasks to be undertaken. You could help restore locomotives, operate trains, build carriages, serve in the kitchen, lay track, assist at special functions, operate stands at exhibitions and displays, and help to maintain and develop our grounds. There is something for everyone of every age. Not all of the tasks are arduous, and training is provided where required.
If you are interested please contact us on 0427 509 988.