Phone 0427 509 988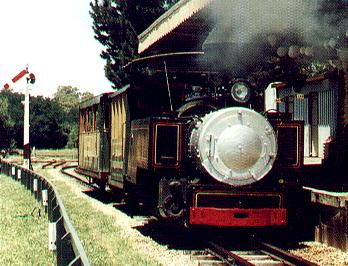 The fist sawmill in the Rubicon Forest, 1907. A Krauss steam locomotive on the tramway, 1934.
Alexandra started life as the Last Gold Rush Town in Victoria in 1867.When the Gold ran out, Pastoralism and Timber took over as the major industries in the region. A large number of bush Sawmills grew up in the surrounding forests.
To get timber to market, a network of horse drawn Wooden Railed Tramways connected the sawmills with the open country at the edge of the forest.
In 1912 the Rubicon Lumber and Tramway Company completed a 610mm, ( 2 feet ), gauge steel railed tramway bridging the 22 kilometre gap between Rubicon and Alexandra. Three small steam locomotives worked this tramway until 1935.
Above you can see a photo of the first sawmill in the Rubicon Forest in 1907, and next to it one of the three Krauss steam locomotives which operated on the Alexandra to Rubicon tramway between 1912 and 1935.
These steam engines were retired in 1935 and subsequently destroyed for scrap metal in 1953. There are many photographs at the Alexandra station re these locomotives.
Note re Term "Tramway".
The term Train or Tram seems to have been supplanted somewhere, as the Australian Macquarie Dictionary defines Train as "a set of carriages or wagons, whether self propelled or connected to a locomotive, ... such a series without any motive power, ... and ... a railway locomotive."
The definition of a Tram by the same dictionary is, " a passenger vehicle running on a tramway, having flanged wheels and usually powered by electricity.... and .... 4/ a Queensland cane train......"
The definition of Tramway by the same dictionary is," ....... 4/ an early type of railway, consisting of a crude track of wooden rails, ...."
In 1935 the First Victorian Built Diesel Locomotives made by Kelly and Lewis and known as the Dorman, ( but called the Pioneer, due to the fact that it was the first ) took over the workload from the Krauss steam engines, and they operated from 1935 until 1948.
One of these historic diesel locomotives is still operating here at the Tramway Museum. This is another must see item at the museum.
Above is a photo of the First Victorian Built Diesel Engine.
Each sawmill had its own self contained community deep in the forest.
The industry remained little changed until all but one of the eight mills in the forest was destroyed in the devestating 1939 bushfires. Motor trucks took over the function of most tramway systems in 1947.
Fortunately, several of the tramway locomotives have been preserved at Alexandra for your enjoyment. Situated at the historic Alexandra railway yards, ( the former tramway terminus ), the Alexandra Timber Tramway recreates the sawmilling era in the Rubicon Forest.
See displays of logging technology, timber industry era buildings, and of course a working steam tramway for your enjoyment.
To see more of the museum press the link below.