Phill and Val Smith's
SKI RIDES
Yarrawonga Foreshore at the Bridge
At Ski Rides, Phill and Val Smith help complete your Holiday. Join us on Lake Mulwala in any of our exciting watersports - experience the exhilaration of parasailing, join family and friends on our fantastic banana rides, picnic pontoons, pedal boats or boat rides!
No matter what time of day, whether you want your fun to be fast or slow, we have a water activity to suit your every mood.
Our 35 years of watersport experience on Lake Mulwala is your guarantee of enjoyment.
Call Now! 0419 211 122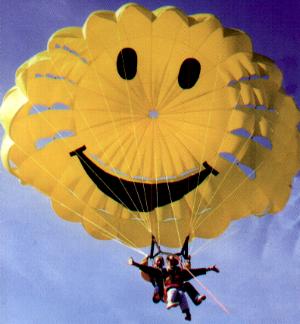 From Learner to Advanced
All equipment provided. Bring the kids and learn to ski. Come aboard our boats and enjoy the pleasure of seeing your children taught to ski using the best available equipment, expert instruction and the latest in teaching aids.
Australia's Highest Parasailing.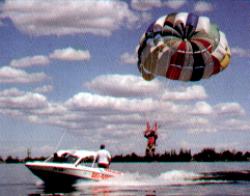 A fun way to experience the Lake Mulwala rush.
The relaxing way to explore the lake.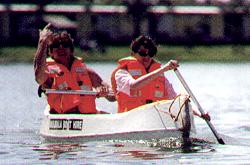 Self drive, no license required, CD sterio, BBQ provided.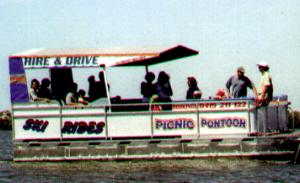 For Fishing or Sightseeing.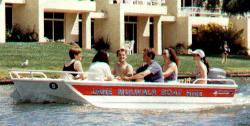 Fishing
Fishing boat hire, by hour, half day, full day. Fishing Rod hire. Tubs of Bait.
You'll never laugh so much.
Ideal fun for the little ones.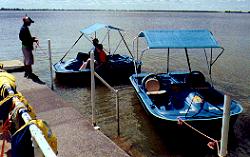 Mulwala Heated Waterslide, Mulwala Foreshore, behind the Pub.
Where people scream in delight.
Location
Yarrawonga Foreshore at the Bridge.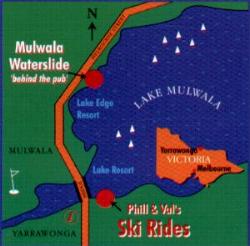 Qalified Experienced Instructors
Bookings 0419 211 122
Web Site www.skirides.com.au
Email phill.smith@skirides.com.au