11 - 13 High Street, Wodonga 3690

The Sanctuary Park Motel is conveniently located at 11 High Street Wodonga, with the main entrance fronting Wodonga's main street, High Street.
The Motel is also located only about 300 metres from the end of the Melbourne to Wodonga Hume Freeway. Travel to the end of the freeway which is a T intersection, turn right into High Street, and then first right into Wodonga Street and enter via the side entrance.
The rear of Sanctuary Park overlooks the magnificent Sumsion Gardens, with its beautiful lake and Island Rotunda. The side entrance makes the motel extremely bus and coach friendly, and also offers coaches off street parking.
Above is a photo showing the large swimming pool in the motel's lawn courtyard, and above right you can see the lake and covered barbeque of Sumsion Gardens which are directly opposite the rear of the motel, on the other side of Church Street.
Above are photos of the large, spacious bedrooms, with colour remote controlled televisions, airconditioning, refrigerator, tea and coffee making facilities.
There is a complete assortment of room combinations, including single, double, twin and family rooms.
Above are two more rooms, on the left is a large family room which has a double bed and three single beds, whilst on the right is a queen sized bed and a double bunk.
Breakfast may be brought to your rooms in the mornings, and the Sanctuary Park has a Licensed Reception at Hotel Prices.
Location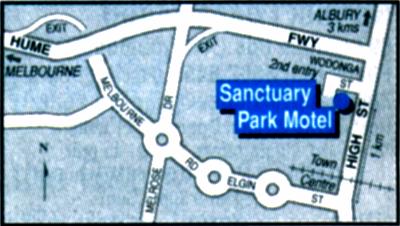 Bookings or Inquiries
Please phone us for prompt and efficient service on 0260 241 122
For Direct E-Mail Bookings or Inquiries, please fill out the Forms Below
The Up Button takes you to the Home Page