Bullers Calliope Vineyard
Three Chain Road, Rutherglen 3685
Located at the Bullers Calliope Vineyard is an extensive Bird Park. This was created years ago by looking after one or two stray birds, and it has grown into a fascinating collection of Australian birds.
Yellow Rosella, Black Swan, Scarlet Chested Parrot
Below is a listing of most of the birds in the park. As you can see, it is well worth dropping in to see this extensive range of well displayed Australian birds.
| | | |
| --- | --- | --- |
| Alexandra's Parrot | Turquoise Parrot | Flock Bronze Wing |
| Blue Winged Parrot | Talking Cockatoos | Guinea Fowl |
| Bourke's Parrot | Banded Plover | Golden Pheasant |
| Cockateil | Belgium Bearded Bantams | Mandarin Duck (China) |
| Crimson Rosella | Black Masked Dove | Paradise Duck (NZ) |
| Eclectus Parrot | Black Swans | Pea Cock |
| Eligant Parrot | Black Winged Stilts | Peking Bantoms |
| King Parrot | Brush Turkey | Pigeons |
| Major Mitchel Cockatoo | Bush Stone Curlew | Red Fronted Kakariki (NZ) |
| Pale Headed Rosella | Bleeding Heart Pigeon (NZ) | Ruddy Duck (Himalaya) |
| Red Vented Blue Bonnet Par. | Buff Banded Rail | Scaup Duck (NZ) |
| Regent Parrot | California Quail | Water Birds |
| Scarlet Chested Parrot | Cape Barron Goose | White Pigeon |
| Superb Parrot | Chestnut Brested Shell Duck | Wonga Pigeon |
| Yellow Rosella | Emerald Dove | Partridge Pigeon |
| | Gang Gang Cockatoo | |
( Endangered Species )
Bullers Bird Park is a unique Park in that it has great pride in having some incrediably rare birds in its collection.
The Turquoise Parrot, or Turquoisine Parrot, is a very rare parrot, being on the endangered species list. There are quite a few healthy and breeding pairs at the park.
Very similar to the Turquoise Parrot is the Scarlet Chested Parrot. They are nearly identical in colour and size, but of course the Scarlet Chested Parrot has a large Red or Scarlet Chest. There are breeding pairs of these rare birds at the park.
The very timid camouflage king, the Bush Stone Curlew, also on the endangered list, has been successfully bred in the park over many years.
Whilst not quite on the endangered list, due to their numbers in captivity, the Alexandra's Parrot or Princess Parrot is becoming endangered in its natural habitat.
So by making a trip to the Bullers Bird Park in Rutherglen, in one leisurely hour you will see four of the rarest and most endangered birds in Australia. Some seasoned professional birdwatchers would not have been able to see all these four rare birds in their lifetime of seasoned stalking.
Above you can see the beautifully kept garden in front of the Bird Park. There are large tables under some huge shade trees, so the Bird Park is an ideal stop for the touring coaches and mini buses, or just larger family groups. The photo above right shows a garden pathway through an arch which is covered in roses. The photo does not show it but there is a little wooden garden seat under the archway.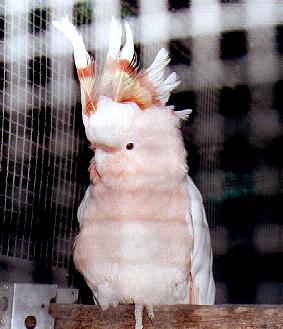 Major Mitchell Cockatoo
Next time you are in Rutherglen, come in and see the Birds, and say hello to the friendly Major Mitchell Cockatoos, like the one photographed above.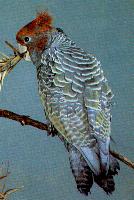 Gang Gang
The Up Button takes you to the Home Page.