( formerly Hume Country Golf Club Motor Inn )
736 Logan Road, Albury 2640
Phone 0260 258 233 Fax 0260 404 999
Email humecountry@aapt.net.au
Web Site www.humecountrymotorinn.com.au
This modern, spacious 21 unit Motel is located on the old Hume Golf Course commanding magnificent panoramic views whilst still being Albury's quietest motel.
AAA Rating

The entrance to the Hume Country Motor Inn
At Hume Country Motor Inn we offer our guests Albury's quietest motel located only four minutes from the CBD and located on the former Hume Country Golf Course. Wake up to the birds, not traffic!
Set in a rural location , 2 acres overlooking 50 acres, with the close proximity to sporting fields, shopping, theatres, racecourse, equestrian centre, indoor stadium, golf clubs, a great place to unwind after a day on the road, or make us your next family holiday destination.
With 21 luxury, spacious and modern rooms to suit singles, couples, families, groups and even the romantic, in our deluxe spa suites, make sure your next visit to Albury includes accommodation at Hume Country Motor Inn.
The Spa Suite
and Spa
Queen Room
Enjoy continental or delicious hot cooked breakfasts in the privacy of your room 7 days a week, or try our home made hearty meals in the evening, with a selection of drinks from our Mini Bar in reception.
The saltwater pool is an ideal way to relax.
All rooms have parking in front, are ground floor only and non smoking. The inground pool, BBQ area and children's playground are all accessible from your room via the rear verandah, sit back and watch the world go by, or watch the children running off that excess energy from the chairs provided outside your room.
The Hume Country Motor Inn features
All Ground Floor Units

Delux

Spa Suites
5 minutes from C

BD

Family Units
Salt Water Inground Pool
Children's Playground
Fax Facilities,

WIFI,

BBQ Areas
Guests Laundry
Continental and Home Cooked Breakfasts
Non Smoking, Disabled Friendly Units
For direct Email Bookings or Inquiries, please fill out the forms below.
The Hume Country Motor Inn is located in Logan Road, which runs off the old Hume Highway to the west between Fallon Street and Union Road, Albury.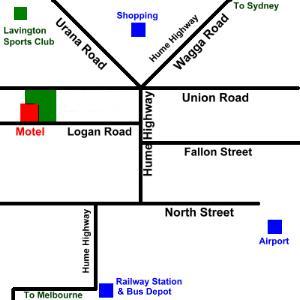 To obtain room rates press here
The Up Button takes you to the Home Page.