VICTORIA ROSE BED AND BREAKFAST
COTTAGE ACCOMMODATION
15B LOCH STREET, BEECHWORTH 3747
PHONE / FAX 0357 281 069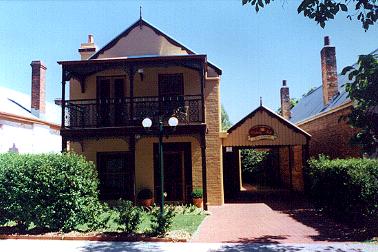 Victoria Rose is a very elegant, fully self contained two-storey home, Circa 2000 but could be mistaken for Circa 1880. Much thought and planning has gone into the creation of Victoria Rose, very old fashioned and romantic with modern touches. For lovers of all things Victorian, this is for you.
Victoria Rose is for people who wish to enjoy their own company - rise when they wish, cook and eat a leisurely breakfast, read the paper at the table, before doing their own thing for the rest of the day.
Victoria Rose can accommodate from two to five people. It offers two bedrooms, two bathrooms ( one with spa ), fully equipped kitchen with everything on hand to make your stay comfortable and memorable. Antiques and things just old abound, mostly purchased locally to satisfy a collection addiction. Lounge/ dining area downstairs with TV and music, wood burning heater for winter, evaporative cooling for the summer, one bedroom and spa bathroom. The second bedroom is upstairs with ensuite bathroom and there is also an elegant sitting room with TV/ VCR and French Doors leading to the verandah. Perfect to sit and watch the world go by or curl up with a good book.
| | |
| --- | --- |
| | |
Victoria Rose is centrally located, just one block from the town centre, with off street parking. Just park your car and if you wish you don't have to get into it again until you leave for home. Just 80 paces away from the nearest Bistro and around the corner to the nearest Restaurant or a couple of minutes stroll to any of the other wonderful eating houses in Beechworth.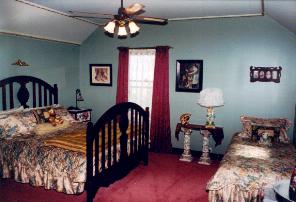 But if you do want to explore the rest of the area or visit one of the local wineries, we are right in the heart of it all. Whatever you are into, Beechworth has it - heritage, wineries, beautiful gardens, peace and tranquility.
Victoria Rose is operated by Lyn and Tony McCure in conjunction with their Bed and Breakfast, the Rose Cottage, so now guests can have the best of both worlds, a choice of a traditional Bed and Breakfast or a Self Catering Cottage, both maintaining a very high standard in accommodation excellence.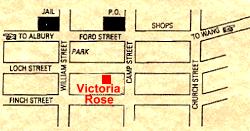 Tariff
$155.00 per night for one couple, which includes GST.
$65.00 extra per person over 2.
Family rate of $180.00 ( 2 adults plus one or two children ).
Please note
2 nights minimum stay on weekends
3 nights minimum stay on long weekends
Deposit required on booking
Cancellation policy
For bookings please phone 0357 281 069
or call at the Rose Cottage,
42 Camp Street Beechworth, 3747
Email rose-cot@bigpond.com
For Direct Email Bookings or Inquiries please fill out the forms below.
The Up Button takes you to the Home Page