Tour de Malakoff Rose Garden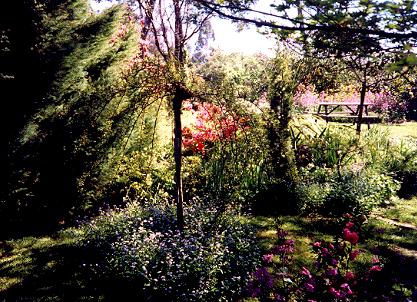 TOUR DE MALAKOFF ROSE GARDEN IS OVERFLOWINGWITH OLD FASHIONED ROSES AND STUNNING GARDEN STRUCTURES.
The Advanced Garden: Filled with old fashioned and species roses, it also features a wide selection of cottage plants. Other highlights include the handbuilt gazebo, dovehouse and personally designed arches, (available upon request).
The House Garden: Featuring camellias, rhododendrons and azealeas, it was the source of our inspiration 20 years ago.
The New Section: Although only four years old, this garden will duplicate the Advanced Garden. Featuring a hand built stone and slip rail fence, other focal points are the Crab Apple Walk, Wisteria Walk and the avenue of pear trees, all carefully arranged to take advantage of the scenic views. Colour grouping is evident in this area, with cottage plants completing the scape.
Each year we are rewarded with this splendour and we hope, as you tour our garden, that you will be inspired to take pleasure in the beauty that these roses offer.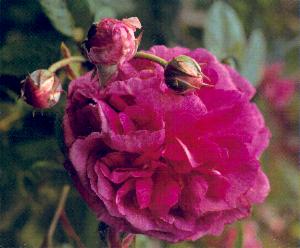 TOUR DE MALAKOFF ROSE
Pictured above, the rose obtained its name through the Russian Royal Family. Prince Malakoff fought bravely in the Crimean War, and so in his honour a rose was named after him. The words "Tour de" mean gentry, or "Title", such as Sir, Vicount or Duke in the English language. Hence the name" Tour de Malakoff."
Tour de Malakoff Rose Garden can be found at 30 Malakoff Road, Beechworth, which if you come from Wodonga, drive through Beechworth, past the Post Office towards Wangaratta, and after crossing Newtown Bridge, Malakoff Road is the second on the right.
For more information please ring Frank or Jenny Gadler on 0357 281 107
PRESS HERE TO RETURN TO BEECHWORTH TOURIST ATTRACTIONS
PRESS HERE TO GO TO ALBA COUNTRY ROSE BED AND BREAKFAST