Chiltern Road, Beechworth, 3747
0357 281 035
Woolshed Cabins are situated just five minutes drive from the centre of Beechworth, and located at the Historic Woolshed Falls Area, in lush bushland which allows peace and tranquility, whilst allowing visitors a perfect base to explore Beechworth, or the North East, or to simply just unwind.
The cabins are nestled in the Historic Beechworth Forest and are designed to compliment the bush settings. By staying in these cabins you will experience the feeling that only the real Australian Bush can bring.
The cabins have accommodation up to 5 persons, which is ideal for groups or families, and have fully equipped kitchens with gas ovens and all cooking utensils.
Within walking distance from the Cabins are the Woolshed Falls and its many walks, and the Reedy Creek, the richest gold mining creek in Australia's history, a favourite site for fossicking and gold panning.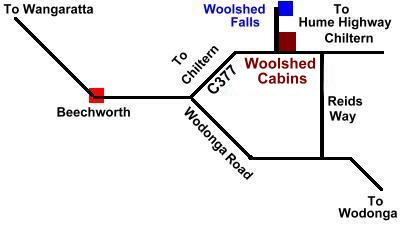 For Bookings or Inquiries
Write to
Woolshed Cabins

P.O. Box 116

Beechworth, Victoria, 3747
Or Phone 0357 281 035
Or E Mail to
info@woolshedcabins.com
For direct E Mail Bookings or Inquiries, please fill out the form below.
The Up Button takes you to the Home Page