Alexandra Dairy Milk Bar
41 Grant Street ( Maroondah Highway )
Phone 0357 722 177
Old fashioned convenience for the customer, with a 50's style snug at the back of the shop so that you may relax whilst you drink your coffee, just like on Happy Days.
The outside shaded tables or the inside couch and chairs are a feature of the Dairy Milk Bar's concern for their customers.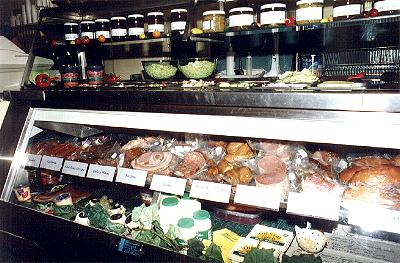 The Range of Exotic Sandwich fills is another example of caring for customers, with the labels above reading, kransky, kabana, baa baa straps, deluxe ham, bacon, strass, corn beef, chili ham, smoked chicken.
Most of the product is sourced locally, from Thornton Deli Meats, Yea Brand Cheese, Eildon Smoked Trout and Trout Pate, Free Range Eggs, local Olive Oil, local Lavender Oils, Ruffy Produce Store jams and chutneys.
So if you are passing through Alexandra, stop at the beautiful Rotary Park with its sheltered pavilions and conveniences, and call into the Dairy Milk Bar right over the road.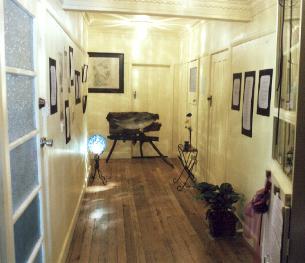 Above is the Gallery at the Dairy Milk Bar. The Gallery will have different displays throughout the year, the photographed one is a Poetry Display, allowing the best of the local poets to show the public their combined talents.
The Up Button takes you to the Home Page