Regional
Information ...
---
... for Albury-Wodonga and surrounding districts.
This site is under development, and as such, the only links currently available are for the Albury area. As more information becomes available, and pages completed, links will be added.
We hope you find this information useful. Please visit again!
---
To view a full size version of the regional map, please click on the icon below (636x697 JPG - 289k).

---
Towns within the region include (in alphabetical order):
Albury
Bandiana
Baranduda
Beechworth
Berringama
Bethanga
Biggara
Bogong
Bonegilla
Bowna
Bringenbong
Brocklesby
Bruarong
Bullioh
Bungil
Bungowannah
Burrumbuttock
Chiltern
Clover Flat
Colac Colac
Coral Bank
Corowa
Corryong
Cudegwa North
Cudgewa
Culcairn
Darbysire
Dederang
Dora Dora
Ebden
Eskdale
Gerogery
Gerogery West
Gundowring
Holbrook
Hume Weir
Howlong
Jindera
Kancoona
Kergunyah
Khancoban
Kiewa
Koetong
Leneva
Leneva West
McNamara Crossing
Mitta Mitta
Morven
Mount Beauty
Mullengandra
Myrtleford
Nariel
Nariel Creek
Old Tallangatta
Ralvona
Reids Creek
Running Creek
Rutherglen
Springhurst
Stanley
Table Top
Talgarno
Talmalmo
Tangambalanga
Tawonga
Tooma
Towong
Upper Gundowring
Upper Towong
Walla Walla
Walwa
Warbrook
Willow Crossing
Wodonga
Woomargama
Wooragee
Wymah
Yackandandah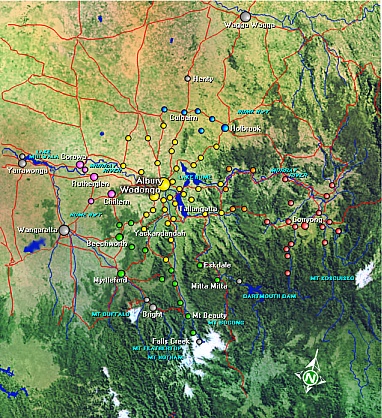 This is the start of a project we hope will continue to grow, and be added to and improved as a permanent and on-going feature of our Internet Web Site.

---

Other Projects under development:

Bushrangers of the Local Area - St Anne's School
Local man-made features of the Albury area -Xavier High School
Yackandandah, the Tourist Town - Yackandandah Primary School
"The Town that moved" - a history of the Tallangatta region - Tallangatta Secondary College
Geographical places of interest around Lavington including Red Light Hill, Hume and Hovell Track and Quicks Hill - Lavington East Public School
An overview of Brocklesby, including local history, the school, town, farming in the area, sights and society - Brocklesby Public School

We have a wealth of resources in our regions past, present and future, and we intend to collate and portray as much of this as possible on the world stage, not just for ourselves, but for the rest of the world, and our own future generations.

Join us in supporting this ambitious project by encouraging your schools, and the kids and teachers involved in making this possible.

Watch this space!

---

Other information is available from the Tourism pages prepared by Charles Sturt University at:

---

If you would like to contribute to the Regional Information Project, or have a link for our lists, email: webmaster@albury.net.au


Return to Albury Local Internet Home Page