The Hume Weir
- October 1996 -
---
Water, water everywhere!
With the Dartmouth Dam (upstream catchment reservoir) at 100%+ capacity, excellent snow falls on the mountains still to melt, widespread spring rains in the catchment areas, and the Hume Weir itself at 97%+ capacity, something has got to go - and we'd rather it wasn't the Weir wall!!
An unexpectedly large (5mm) movement in the core wall of the dam has concerned officials, who have subsequently brought forward remedial works to strengthen the wall and bring the structure in line with current world standards.
As an added precaution, the water level in the Dam is being reduced by 5 metres. Consequently, releases from the Dam are creating a visual spectacle, with a fine airborne mist spray carried downstream for some distance.
The continual high level of releases from the Dam are compounding the effects of local rainfalls and some moderate flooding is being experienced in low lying areas. Flood warnings are current for many Rivers upstream and downstream of the Hume Weir.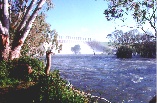 627x410 JPG - 159K
Approaching the Dam from the New South Wales side. The structure seems partially obscurred, blurred, by the mist rising from the out-flows from the Dam.
---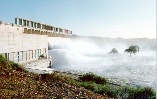 627x397 JPG - 108K
A closer view of the Dam structure. Taken 13th October 1996 - 17 gates open. Part of the power station complex can be seen to the left of the picture.
---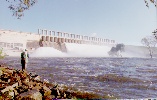 627x397 JPG - 118K
The waters at the base of the dam are a popular fishing spot. Water releases from the base of the dam to the left of the spill-way gates are from the power station.
---


411x585 JPG - 103K
Looking down from the top of the Dam wall at one of the power station outlets.
---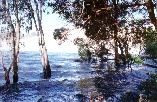 627x397 JPG - 108K
Choppy high water at the boat-ramps by the Spillway Caravan Park. The Dam wall is obscured by mist but can just be seen to the right through the trees, small eucalypts which are normally high and dry!
---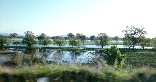 623x326 JPG - 84K
Flood waters on the lowlands downstream of the Weir.
---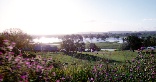 622x328 JPG - 89K
Flood waters flushing the lagoons downstream of the weir. Annual flooding is actually an important part of the life-cycle of Australian Rivers and the river gums.
---