Configuring IBM's Web Explorer V1.1h to use the proxy for Albury Local Internet
OS2 version
---
If you wish you can print out these instructions if you have trouble trying to follow them from the screen.

NOTE:
1) Clicking on the graphics in this tutorial page will NOT set up your proxies - they are sample guides only. Follow the instructions and open the appropriate windows in YOUR BROWSER to configure your Proxies, following the samples shown here.
2) Albury Local Internet's (ALI) Proxy Server is only available to ALI subscribers using their ALI dial-in account. Subscribers to other services MUST get the proxy name and port from their own ISP, and substitute these where shown.
---
Step 1.

To configure Web Explorer to use a proxy, select "Configure" from the top menu bar, and then "Servers"

This will open the Configuration window.
---
Step 2.
Albury Local Internet Subscribers set up your proxies as set out below by Enabling the proxy (click in the Enable Proxy? box) and setting the Proxy Gateway to http://proxy.albury.net.au:3128/
proxy.albury.net.au is your Proxy Server, and the Port is 3128. Don't forget the colon (:) and trailing slash (/). Configure your Home URL, email and news server if not already set. Leave everything else as it is by default.
(Subscribers to other services use your own ISP's details, proxy name and port here)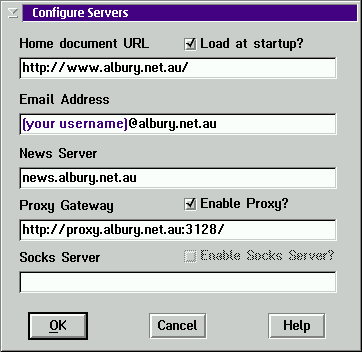 Once you have finished, click on the OK button to close the Server Configuration window.
---
Congratulations, your Browser should now be set to use the proxy!
---
You may now use your Browsers "Back" button to return to your previous page, or Return to Albury Local Internet Home Page.