Configuring Netscape V4 to use the proxy for Albury Local Internet
PC (Windows 95) version
---
If you wish you can print out these instructions if you have trouble trying to follow them from the screen.

NOTE:
1) Clicking on the graphics in this tutorial page will NOT set up your proxies - they are sample guides only. Follow the instructions and open the appropriate windows in YOUR BROWSER to configure your Proxies, following the samples shown here.
2) Albury Local Internet's (ALI) Proxy Server is only available to ALI subscribers using their ALI dial-in account. Subscribers to other services MUST get the proxy name and port from their own ISP, and substitute these where shown.
---
Step 1.

To configure Netscape to use a proxy, select "Edit" from the top menu bar, and then click on "Preferences"

This will open the Preferences window.
---
Step 2.
Click on the "+" symbol beside "Advanced" to bring up the proxies option.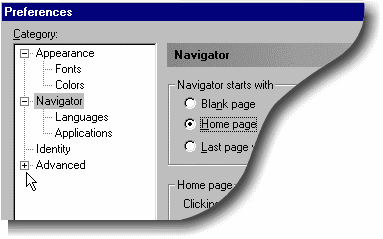 ---
Step 3.
Click on "Proxies", select "Manual proxy configuration" and click on the "View" button.